Patrick Luib, MSN, APRN, BC
Senior Director, Maximus
University of Wisconsin - Madison (BSN) School of Nursing
City University of New York - Hunter College (MSN) School of Nursing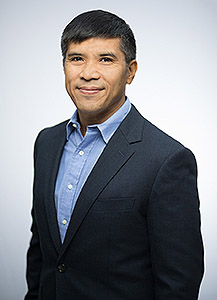 Describe a day in your life.
At the height of COVID-19 pandemic, I was seeing patients 2-3 days a week for a large urban Federally Qualified Health Center. In addition, I was the project director for a nursing home quality improvement project with the Centers for Medicare & Medicaid Services that involved working with long-term care facilities nationwide.
Presently, I lead the clinical assessment and business operations for a program that uses registered nurses and advanced practice nurses to assess persons in underserved communities throughout the state who need long-term services and supports.
Despite the many uncertainties and conflicting demands in our work, I balance my day with the right amount of attention for several competing priorities and am flexible and adaptable when facing difficult decisions and conversations such as recent vaccine mandates.
What inspired you to work in geriatrics?
Although my mother was a pediatrician, she inspired me to work in geriatrics at an early age. It was during my senior year in high school when I first worked as a CNA in a nursing home where my passion for geriatrics evolved.
How do you see the field of geriatrics evolving in the future?
This is an important time to be practicing long-term care because we are witnessing a confluence of unprecedented changes in social, political, and environmental factors. For example, there is the need to continue educating more nurses who are new to the field of geriatrics.
At the same time, more doctoral-prepared nurses are needed to teach and mentor these nurses. In a matter of 1 day in January, the New York City Department of Health Medical Reserve Corps received more than double the number of requests for staffing assistance across 28 nursing homes.
I believe the nursing workforce crisis can be mitigated with more advanced practice nurses in post-acute and long-term care settings.
What is the favorite part of your job?
I enjoy working with APNs, especially during disasters and public health emergencies. I also find the opportunity to connect with patients, families, and communities equally rewarding.
Describe where you hope to be in 5 years in your career.
I'm pursuing a PhD in nursing and want to use my skills as a nurse scientist by applying the rigors of program evaluation when translating research into practice and using evidence-based policymaking to improve health equity in underserved populations.
How and why did you get involved with GAPNA as a leader?
I have been a GAPNA member since 2008. I credit several persons, but Christina Ramsey stands out as a mentor and friend who supported my involvement with GAPNA as a leader over the last few years.
Any workplace honors you'd like to mention?
I was recognized by Deloitte for my COVID-19 efforts during the early portion of the public health emergency in New York City.
More recently, I accepted the nomination to serve on the executive committee of Advancing Excellence, a not-for-profit entity that creates a forum for organizations and individuals committed to the needs of long-term care residents and staff to discuss policies that affect these vulnerable populations.
What are your hobbies/favorite activities?
I most enjoy being with my family including those in the Philippines. I also enjoy playing tennis, music, fishing, camping, reading, and traveling abroad.
Anything else you'd like us to know?
I was a field medic with the U.S. Army Reserves while studying nursing at University of Wisconsin-Madison when my unit was deployed to several general hospitals and clinics in Germany during Operation Desert Storm.