Preparing the Next Generation of Leaders in Gerontological Nursing
Over the past decade, GAPNA's influence has increased on endorsing standard of care practices and health care policy that improves healthcare for older adults.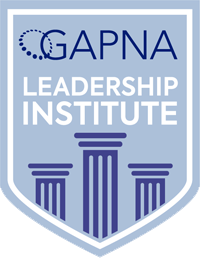 The work of GAPNA has been sustained, in large part, through members who have assumed leadership roles and opportunities within the organization. GAPNA's growth and influence will continue to grow, as more clinicians are caring for the nation's rapidly-expanding older adult population. It is critically important to identify and support members who are interested in developing, reinforcing, and broadening leadership skills to better prepare them for leadership roles within the organization.
The GAPNA Leadership Institute is an 18 month leadership program that includes both online synchronous and face-to-face components. An experienced and nationally recognized nurse leader facilitates the curriculum. All fellows will work one-on-one with mentors, all of whom have held or currently hold leadership positions within GAPNA.
Benefits of the Leadership Institute
Develop meaningful peer relationships among other fellows.
Receive individualized mentorship for all fellows to establish personal leadership development plan.
Increase the capacity for leadership at GAPNA and in the workplace.
Explore professional organizational operations.
Requirements of the Leadership Institute
Attend the GAPNA annual and pharmacological conferences during participation year.
Participate in all online synchronous online meetings for the first 9 months of the fellowship.
Work with an assigned mentor to develop a GAPNA leadership project that will be presented to the GAPNA Board of Directors at the Annual Conference
Develop and disseminate GAPNA Leadership project based on GAPNA Board of Directors recommendations.
Eligibility / Selection
Applicant must be a GAPNA member for at least 2 years and in good standing. Engagement within the organization is highly recommended.
The application period has closed for the 2022 - 2023 year. Applications will re-open in the Spring for the 2023 - 2024 class.