Member Contributions Lead to a Productive Year
By Maureen Stabile Beck
Chapter reigns were successfully transferred from Past President Melissa Lockhart to Maureen Beck for the 2021-2022 year. President Elect is Tammie Michael and Secretary/Treasurer is Elizabeth Godlove.​
Chapter meetings have been hybrid. We are a large chapter and are trying to involve those who live far from Houston and accommodate those wanting to avoid crowds due to COVID. Our chapter meeting in August 2021 included a review of COVID.
At that meeting, we voted in the new Elizabeth Godlove to a 2-year term as Secretary/Treasurer. The meeting in October included a presentation by Maureen Beck on the new law allowing NPs to sign a death certificate in Texas.
Our holiday meeting included lovely door prizes and a delicious meal. Robin Hardwicke, PhD, FNP, presented a valuable presentation on aging and AIDS. Board meetings were held via Zoom on alternating months.
Upcoming topics for 2022 chapter meetings will be a product presentation on Aduhelm® (aducanumab) in February, renal failure in long-term care in April, and the final presentation and meeting will be in June.
Plans are in the works for our scholarship program to award two $750 scholarships to NP students from Texas. Students will need to attend one board and one chapter meeting in addition to submitting the application.
Two chapter members presented at the annual Houston Area Nurse Practitioners meeting in 2021. Mona Patel presented a talk on transitions of care and Maureen Beck presented on geriatric house calls.
Maureen Beck had two posters at the GAPNA Annual Conference in San Diego in October 2021 and helped create and present a talk with Historical Committee Chair Cindy Gerstenlauer and GAPNA past president Deborah Dunn on the history of GAPNA entitled, "GAPNA 40th Anniversary Presentation: Legacy and Leadership" (last year was GAPNA's Anniversary).
Myla Magno, GNP, PMHNP, completed her post-masters in psychiatry in April 2021 and became certified in August 2021. She led an Alzheimer's Walk in November 2021. She is also a contributing author to GAPNA's upcoming A Practical Guide for the Gerontological Specialist.
Two student chapter members, Nadia Salas and Misty Bither, graduated in December 2021 as AGNPs in primary care.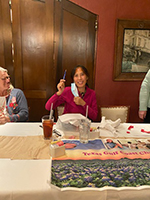 Misty Bither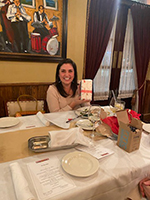 Nadia Salas
Maureen Stabile Beck, DNP, APRN, GNP-BC
Maureen.Beck@uth.tmc.edu