Advocating Health Policy to Improve Health Care
By Donna Hamby
The Health Affairs Committee is 60 members strong with a focus on advocating health policy to improve access to quality health care for the older adult population. Policy changes and concerns at the local, state, and national levels are monitored and addressed at our monthly meeting.
Reports come from committee representatives to the following organizational collaboratives:
National Council of State Boards of Nursing SWOT Calls
Nurse Practitioner Round Table
Nurse Practitioner Extended Round Table
Nursing Community Coalition
APRN Workgroup-Special Interest Group
Advancing Excellence in LTC Coalition
Home Health and Hospice Coalition
National Telehealth Caucus
GAPNA not only increases its presence, knowledge of issues, and advocacy strength by joining these collaboratives, but also develops alliances to promote and advocate policy for improved healthcare access and quality for the geriatric population.
The Nursing Community Coalition comprises 68 nursing organizations. Updates on national bills, such as the Build Back America Better (BBB) Act, are provided with emphasis on sections that affect nursing such as the severe staffing shortages in long-term care facilities. A letter addressed to Sens. Charles Schumer and Mitch McConnell to support the BBB Act was signed by GAPNA and 36 other member organizations.
The National Council of State Boards of Nursing provided notification of a policy statement to be distributed to all nurses regarding misinformation on COVID masking, vaccines, or medications. Misinformation provided by nurses to the public is an ethical violation and will be addressed by the appropriate state board of nursing.
Currently the committee is promoting individual GAPNA members to advocate for House Bill, Increasing Access to Quality Cardiac Rehabilitation Care Act of 2021, H.R. 1956, which has 37 co-sponsors, and Senate Bill, S. 1986, which has 8 sponsors.
A letter to your congressional member reflecting your support of the bill as a constituent and APRN whose patient population would benefit, helps to generate more co-sponsors for the bill. A larger number of co-sponsors would ideally bring this bill to the legislature for a vote. To learn more about the details of the bill, go to www.congress.gov.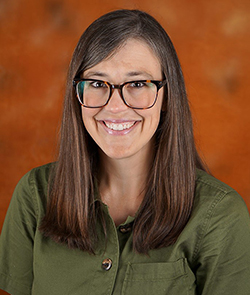 Abigail Parish
The Health Affairs Committee also sponsors a scholarship each year to the American Association of Nurse Practitioners' Health Policy Conference in Washington, DC. Any GAPNA member who wishes to serve on the committee and receive advocacy training may apply. We are pleased to announce this year's scholarship award recipient is Abigail Parish.
Donna Hamby, DNP, ACNP-BC, RN, DEGN
rdlh2011@gmail.com