The North Carolina Triad Members Contribute Time and Talent
By Laurie Kennedy-Malone
The North Carolina Triad Chapter of GAPNA has focused this past year on finding ways to give of our time, talent, and treasures to older adults in our community.
Under the leadership of our volunteer coordinator Shelby McGee, we planned numerous service activities.
Knowing the impact of social isolation on older adults in long-term care during the time of COVID, we had greeting cards delivered to residents during holidays throughout 2020 and into 2021 via our members who work in long-term care.
We gathered at Food Assistance, Inc. in Greensboro, NC, twice in the fall to pack food for homebound older adults and donated needed paper products to the organization for distribution.
On a beautiful day in October 2020, chapter members participated in the Walk to End Alzheimer's Disease. We raised $810 to support research for the Alzheimer's Association.
One of our latest endeavors was to collect donations to provide stuffed animals to nursing home residents for National Puppy Day on March 23, 2021.
Knowing these initiatives brought smiles to the faces of older adults who have been impacted in so many ways by the pandemic left us with a sense of gratitude to be members of a professional organization dedicated to delivering excellent care to older adults.
We are pleased to announce that at our annual meeting this year is May 11. Dr. Tamatha Arms, who currently is serving as chair of the GAPNA GeroPsych SIG and is a member of our chapter, will present on "The Impact of COVID-19 on the Mental Health of Older Adults."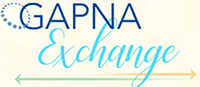 Further information on how to view this presentation will be placed in the GAPNA Exchange.
Laurie Kennedy-Malone, PhD, GNP-BC, FAANP, FGSA
lauriekm17@gmail.com