House Calls Providers in the Age of COVID-19
Since the COVID-19 pandemic first broke out in the early months of 2020, home-based primary care providers have risen to the challenges of keeping homebound older adults in their homes and out of emergency rooms and hospitals, if possible.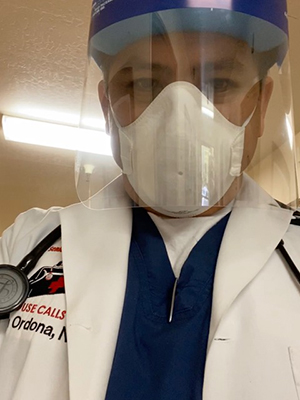 The CARES Act, which came about because of the pandemic, has brought about the ability of nurse practitioners, clinical nurse specialists, and physician assistants to certify and recertify home health which breaks down barriers for homebound older adults access to high-quality care.
The pandemic has also exposed the homebound older adult population to the high risk of increased food insecurity. Rachel Zimmer, GAPNA House Calls SIG Chair, and her team at Wake Forest Baptist Health comprised of medical students and House Call team members, called every House Call patient who screened positive for food insecurity.
The team screened these patients for food allergies and diet restrictions and provided them with weekly deliveries of prepackaged meals and produce.
Older adults are at high risk for social vulnerability, food insecurity, and lack of access to health care. Community nutritional programs, such as food pantries and food banks, and meal delivery services, such as Meals on Wheels, fill a critical need as an emergency source of food for families with food insecurity.
The GAPNA House Calls Special Interest Group (SIG) is engaged in exploring solutions, sharing experiences, and, simply, being there and being in this together during the pandemic. SIG members and leaders are on the move. Sherry Greenberg, SIG Board Liaison, will assume her role as GAPNA President in the Fall.
Ron Ordona, Past Chair of the SIG, was chosen by the American Nurses Association and the American Nurses Credentialing Center as 2020 Outstanding Certified Nurse for Gerontology. Further, Justin Waryold, SIG member, has been inducted as a fellow of the American Association of Nurse Practitioners, awarded the New York State Award in Clinical Practice, and named Educator of the Year by the National Organization of Nurse Practitioner Faculties. 
Ron and Rachel Zimmer were recently featured in an America's Health Rankings blog discussing social isolation.
As educators and clinicians, we do what we do: we educate ourselves, each other, and those who follow us. We serve those who are in need and vulnerable (pandemic or not). Most of all, it's all in our day's work, and, sometimes, we get recognized for the (excellent) work that we do. First and foremost are our silent contributions to society and humanity. As Justin Waryold puts it, "we just keep doing what we're doing…"
Note: The GAPNA House Calls SIG meets every first Thursday at 5:00 pm PT/8:00 pm ET via tele/videoconference. We welcome your input as we learn and support each other.