Historical Committee Member Spotlight: Michelle Longley
Michelle Longley, MSN, RN, NP-C, is a geriatric nurse practitioner at the University of Virginia (UVA) Medical Center. Michelle began her nursing career in 2003 with an Associate in Applied Science, Nursing degree, from Piedmont Virginia Community College.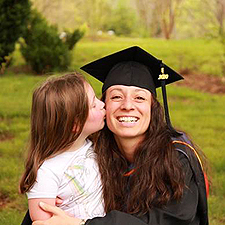 Her first RN position was on the UVA DeCamp Burn/Wound Care Center where she was drawn to caring for older adults and ensuring their safety during hospitalizations. After several years of wound care, Michelle completed her BSN ('06) and MSN ('08) programs at the University of Virginia and became a geriatric nurse practition
In the hospital setting, Michelle's practice focused on injury prevention and patient safety for inpatient geriatric patients. Over the years, she became increasingly involved in nursing shared governance, quality improvement, and project management.
Ultimately her role evolved into the UVA Nursing Practice Clinical Program Coordinator, which focuses primarily on the interface between nursing practice, interprofessional collaboration, clinical guidance documents, and technology. She serves as the Metric Lead for patient fall prevention and is the UVA NDNQI Site Coordinator.
Michelle recently graduated from the UVA Post-Masters Clinical Nurse Specialist Certificate Program and has been enrolled in the University of Saint Augustine for Health Sciences DNP program for 2 years.
She is a member of the American Nurses Association, Virginia Nurses Association, Geriatric Advanced Practice Nurses Association, and National Association for Clinical Nurse Specialists. Michelle lives in a rural central Virginia community with her 6-year-old daughter and geriatric mother at the foot of the Blue Ridge Mountains in a 120-year-old farmhouse.
In 2017, Kathy Fletcher asked Michelle to serve as the GAPNA Historical Committee liaison to the UVA School of Nursing Eleanor Crowder Bjoring Center for Nursing Historical Inquiry. Preserving GAPNA's archives is important because these documents tell the story of incredible nursing leadership, perseverance, and passion for geriatric care and expertise.