For the Love of Music (and Dining, Sightseeing, and Shopping): Experience Nashville!
From its very beginnings, Nashville grew from a foundation built on music. Music has been the common thread connecting the life and soul of the city and its people.
And visitors have ventured here to experience the music that weaves such a fundamental pattern in its cultural, business, and social fabric.
Nashville is the capital of Tennessee and the state's most populous city. Visit and experience it for yourself during the 36th Annual GAPNA Conference, October 4-7, 2017, Gaylord Opryland Resort & Convention Center.
Grand Ole Opry®
What began as a simple radio broadcast in 1925 is today a live entertainment phenomenon. Dedicated to honoring country music's rich history and dynamic present, the Grand Ole Opry showcases a mix of country legends and the contemporary chart-toppers who have followed in their footsteps.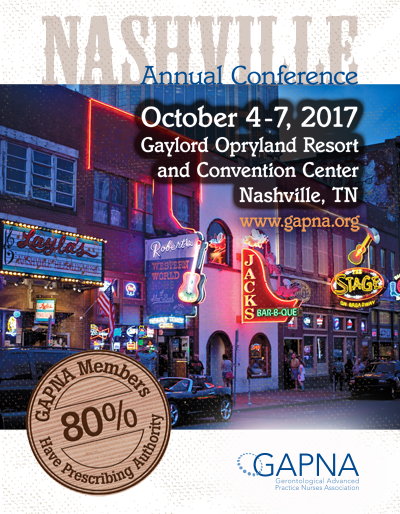 The Opry, an American icon and Nashville's number-one attraction, is world famous for creating one-of-a-kind entertainment experiences for audiences of all ages. And, it's located next to the Gaylord Opryland Resort & Convention Center!
Honky Tonk Highway
For those who don't know, a honky tonk is an establishment that contains at least one rockin' stage, cold beverages, and a party that lasts all day, everyday. And we mean every single day. Nashville's Honky Tonk Highway, located on Lower Broadway, is a row of these beautiful things pumping live music into the streets from 10:00 a.m. to 3:00 a.m.
One of the best parts: it doesn't cost a thing. Meaning no cover charge. Meaning save your money for more important things like the tip jar! Because Music City believes music should be shared to all. And you never know who you'll see in these Lower Broadway clubs.
Willie Nelson, Kris Kristofferson, Gretchen Wilson, Dierks Bentley, and other stars began their careers on this amazing street. The person you see singing on stage in Music City might be the next big thing.
Enjoy the ride along Music City's Honky Tonk Highway.
Country Music Hall of Fame
The Country Music Hall of Fame® and Museum adds a strikingly modern touch to the Nashville skyline and is situated at the epicenter of the city's rapidly growing core, a block from the popular honky tonks of Broadway.
The museum, called the "Smithsonian of country music" because of its unrivaled collection, recently unveiled a $100 million expansion, doubling its size to 350,000 square feet of dynamic state-of-the-art galleries, archival storage, education classrooms, retail stores, and special event space boasting stunning downtown views.
Belmont Mansion
Belmont Mansion is a must-see for anyone interested in Tennessee history, the Civil War, architecture, art, and decorative arts. Adelicia and Joseph Acklen, who were once among Nashville's richest citizens, built the Italian Villa house in 1853.
Belmont was part of a large country estate created as a summer getaway from the family's Louisiana plantations. Despite the Acklen's wealth and status, they were not immune to the troubles of war. In December of 1864, the 4th Corps of the Union Army occupied the house and grounds before the Battle of Nashville.
Most rooms in Belmont Mansion have been meticulously restored, including many original furnishings, artwork, and statuary.
Dining
While Nashville has long been known for its expansive music landscape, the talent and creativity of its culinary scene has recently put Nashville on the map.
Food & Wine highlighted the "booming Music City food scene," Food Arts Magazine noted the "emerging culinary scene putting Nashville on the gastronomic radar," and, most recently, Condé Nast Traveler stated this about Music City: "There's enough going on food-wise to warrant a trip solely for eating."
Nashville's creative spirit has certainly infiltrated into its kitchens, turning them into the chef's studio. From Southern fare to haute cuisine to quite literally everything in between, Nashville's palate offers it all.
Opry Mills® Shopping
Within walking distance from the Opryland Hotel is Tennessee's largest outlet and value retail destination. This beautiful indoor mall boasts 200+ stores such as Saks Fifth Avenue OFF 5TH, Forever 21, J. Crew Factory Store, Vera Bradley Outlet, Bass Pro Shops Outdoor World, and more.
Enjoy the Opry Mills experience with retailers ranging from jewelry to women's apparel to sporting goods. Dining options include Aquarium Restaurant, Rainforest Cafe, and Chuy's Mexican Food, as well as quick and fast options such as Johnny Rockets, Subway, and Panda Express.
To top it off, Opry Mills offers entertainment options with Regal Cinema 20 and IMAX Theater, and Dave & Buster's!
Ryman Auditorium
When you walk through the doors of the historic Ryman Auditorium, one thing becomes clear right away: this isn't just another nightly music venue, and it's so much more than a daytime tourist stop.
This place is hallowed ground. This is the exact spot where bluegrass was born, where Johnny Cash met June Carter, where souls were saved and a slice of history was nearly lost.
It was right here that country music found an audience beyond its own back porch, and countless careers took off as deals were signed on napkins and paper scraps backstage.
This is a building where anything is possible: a soul can find redemption, a crumbling building can find salvation, and an unknown kid with a guitar can find his or her name in lights.
Cheekwood Estate & Gardens
Cheekwood is a 55-acre botanical garden and art museum located on the historic Cheek estate.
Originally built as the home of Leslie and Mabel Cheek in 1929, Cheekwood is one of the finest examples of an American Country Place Era estate.
Since being converted into a museum of art and botanical garden in 1960, Cheekwood has presented world-class art exhibitions, spectacular gardens, and an historic estate unlike anything else.
Learn more about this vibrant and entertaining city, and the sights and sounds of Music City awaiting you during the 36th Annual GAPNA Conference, October 4-7, 2017, Gaylord Opryland Resort & Convention Center.