AANP 2017 Health Policy Conference Highlights
by Izabela Kazana
It was my honor and great pleasure to attend the American Association of Nurse Practitioner (AANP) Health Policy Conference in February as the recipient of the 2016-2017 GAPNA Health Affairs Scholarship. Traditionally, the conference is held in Washington, DC, and is concluded with congressional meetings.
The conference started with a warm welcoming of the first-time attendees. The session served as a short course on the essentials of lobbying and influencing legislation.
The AANP leadership painted a clear picture of what to expect during the conference and during meetings with Senators, House representatives, and/or their staff. Equally important was assurance from the AANP leadership that each attendee would receive as much support as needed to conduct visits on Capitol Hill effectively and with confidence.
Conference presenters highlighted healthcare issues at the federal level with a focus on access to high-quality and cost-effective patient-centered care. The key bills for the 115th Congress include:
Home health services. Nurse practitioners should be authorized to certify that patients under their care are eligible for home health services.
Nurse practitioners (NPs), acting according to their scope of practice, manage chronic conditions, certify eligible patients for skilled nursing care, order physical therapy, occupational therapy, and other home services. Since 1998, Medicare Part B accepts NPs as providers. Under state laws and regulations, NPs are authorized to complete physical examinations and certify appropriate documents.
However, when the services are required at a patient's home, according to the Affordable Care Act, one more step is required – a physician signature stating that a face-to-face evaluation has taken place even if that physician was not physically present during the patient assessment. A bill addressing that issue was introduced in the previous Congress without resolution.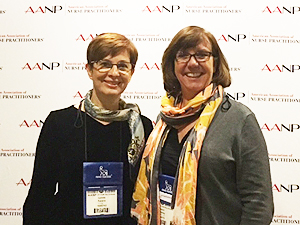 L-R: Izabela Kazana (left) with Sue Mullaney,
Health Affairs Committee Chairperson
On February 22, 2017, S. 445 sponsored by Sen. Susan Collins (R-ME) was introduced to authorize NPs to certify patient eligibility for Medicare home health services. A companion bill should be introduced in the House shortly. NPs are asked to contact their Senators and Representative asking for his/her co-sponsorship of S. 445 and a future companion bill in the House.
Accountable Care Organizations. Patients covered by Medicare and receiving primary care services from nurse practitioners should be allowed to become part of Medicare Shared Savings Programs established as Accountable Care Organizations (ACOs).
Based on the Affordable Care Act, NPs are eligible to participate in ACOs.
However, Medicare beneficiaries receiving primary care services from NPs are excluded from participating in ACO programs. Consequently, NPs are prevented from independently joining or establishing their own ACOs.
On February 16, 2017, H.R. 1160 sponsored by Rep. Derek Kilmer (D-WA) was introduced to improve the assignment of Medicare beneficiaries to shared savings programs in ACOs. The new legislation would allow NPs to join or establish their own ACOs.
It is expected that a companion bill will be introduced in the Senate. NPs are asked to contact their Senators and Representative asking for his/her co-sponsorship of H.R. 1160 and a future companion bill in the Senate.
Additional health care priorities and legislation include:
Access to therapeutic shoes for patients with diabetes
NPs' ability to certify Medicare patients for hospice care
NPs authorization to perform admitting examinations and monthly patient assessments in skilled nursing facilities
NPs full participation in the Insurance Exchange Program
Providing sufficient and stable funding to nurse education programs
Amending the Medicare hospital conditions to consider NPs for membership on hospital medical staff
According to the AANP health policy leadership, they continue to focus on two overarching goals of retiring all federal barriers to full practice authority for NPs and ensuring future legislation and regulations do not create additional barriers. AANP and GAPNA will continue to monitor both state and federal legislation impacting NPs and the patients we serve.
Attending the conference and building my competence in health policy and advocacy was a unique opportunity. Through engaging in the conference activities and working with national experts, I gained priceless firsthand experiences with health policy and legislation.
I am grateful to the GAPNA Health Affairs Committee for making that possible, for supporting my engagement in health affairs, and contributing to my professional development. Attending the conference, investing time to prepare for congressional meetings, and sharing gained knowledge and skills with my colleagues is a professionally rewarding experience.
GAPNA members interested in health affairs, policy legislation, and participating in the AANP 2018 Health Policy Conference are encouraged to apply online at the GAPNA Website for the 2017-2018 GAPNA Health Affairs Scholarship. Applications for the scholarship are due October 15, 2017.
The AANP 2018 Health Policy Conference will be held on February 4-6, 2018, in Washington, DC.
Izabela Kazana, DNP, AGPCNP-BC
izakazana@yahoo.com