Meet Kanah May Lewallen, GAPNA's Summer Rising Star
Kanah May Lewallen, DNP, AGPCNP-BC, GNP-BC, an Instructor in Nursing, Vanderbilt University School of Nursing, is GAPNA's Summer Rising Star.
Her primary role is teaching in Vanderbilt's Adult Gerontology Primary Care NP program, and also teaches gerontology content for the FNP program.
She performs clinical practice one day a week at a local nursing home. She also participates in a research project focused on polypharmacy and deprescribing at Vanderbilt's Center for Quality Aging.
She received her BSN degree from Grand Canyon University, MSN degree from Vanderbilt University, and DNP from Belmont University. She has been a GAPNA member since 2009.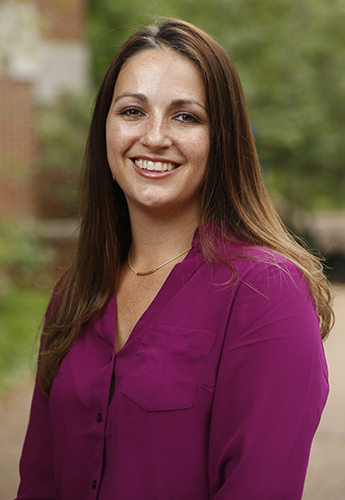 Inspiration
Kanah said the inspiration to work with older adults is in her genes. "I am a third-generation nurse working with the older adult population.
My mother and grandmother are both RNs and they both were nursing home administrators. I spent my childhood in the nursing home. I would go to the nursing home every day after school (it was next door) and had a special bond with many of the patients.
I would practice my reading with them and do activities with them. I also (when I was old enough) worked in every nonlicensed position in the nursing home prior to starting nursing school (yes, even laundry).
Once I finished nursing school I started working on a surgical unit in a hospital and something felt off, something was missing. I realized that I wasn't working with the patient population that I was meant to and pursued becoming a GNP.
Once I started working as a GNP in the nursing home I felt at home and able to provide the care that is fulfilling to me. I now try to instill that passion in my students and help them to realize how rewarding of an environment the nursing home can be."
Making Connections
Kanah sees significant opportunities for advanced practice nurses to make significant changes in the care and wellness of the geriatric population.
"As our population ages and lives longer, we as geriatric NPs will be crucial leaders of patient advocacy. With this great opportunity comes a challenge to ensure that the providers caring for this population have the knowledge to do so. We need to encourage and support nurses, especially those already working with this population, to advance their careers. As NPs working in this field, we also need to be open, willing, and eager to precept NP students. Having a great clinical experience in geriatrics is invaluable to their education and the future of our geriatric healthcare provider workforce."
Kanah enjoys helping students make clinical connections while making patient care connections in her clinical career.
"Seeing the light bulb go off in a student's eyes; I love when a student gets to the point of confidence and achievement and is able to put it all together. This is especially enjoyable when it is related to a complex geriatric patient and the student has all the skills to address the patient's concerns and treat him or her with their goals in mind. In the clinical practice portion of my job, I am honored to provide care at the end of life. At the end of life we are most vulnerable. If I can ease that process in any way for a patient or family I feel I have had an impact and feel immense gratitude to be able to do so."
Away from school and clinical practice, Kanah enjoys connecting with her family which includes husband Jason, 1-year-old daughter Hazel, and two Siberian Huskies: Cabo and Aspen.
"Aspen is a calm sweetheart that we rescued. She has an old soul and is great with older adults. One of my greatest joys is taking her to work with me to the nursing home to see patients. It is amazing how much the patients open up to me with her in the room."
The GAPNA Connection
Kanah become involved with GAPNA when she was searching for an organization that could provide her with the opportunity to network and stay up to date in her practice.
"Not only has GAPNA done that but it is also the organization where I feel at home and with my people. I love the opportunity to network with other members both on SIGs and in my local chapter. I have been on the Post Acute Care/Long Term Care SIG for many years and it has provided me with an amazing group of colleagues across the country. I feel that volunteering in GAPNA has given so much to me and the time spent has been an investment to my career and practice."
Kanah credits and thanks her many mentors, who are also GAPNA members, for the encouragement and support they provided her early in her career. "The connections that GAPNA provides are so meaningful. I look forward to being an active member of the organization for many years to come."