MidSouth GAPNA Participates in MLK50: A New Volunteer Perspective
by Courtney Batey Coats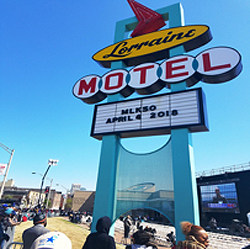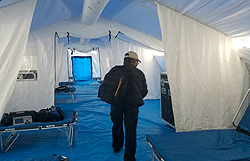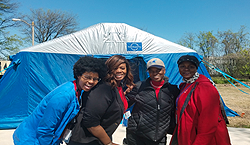 Pictured: Kimary Lee, Courtney Batey-Coats,
Evelyn Jones-Talley, Rachel Crawford.
As we commemorate the assassination of Dr. Martin Luther King Jr. 50 years ago, I had the honor to participate in a field hospital for the MLK 50 celebrations in Memphis, TN.
As I reflect on a few of Dr. King's characteristics such as equality, freedom, justice, and service, I'm honored to be a first-time volunteer with the Shelby County Medical Reserve Corps. I was in awe of the coordination, logistics, and teamwork that was apparent in this strategically executed event.
There was an array of medical professionals present at this event including physicians, nurse practitioners, registered nurses, pediatric flight nurses, social workers, therapists, EMS, paramedics, Memphis Fire Department, and the Tennessee Federation of Fire Chaplains, all ready to assist and provide medical care to those in need.
This vast group of volunteers was ready to serve the pediatric to geriatric communities in these very important roles.
There were multiple MidSouth Tennessee GAPNA members volunteering for the Tennessee Department of Health Field Hospital.
The field hospital was a 10-bed, fully equipped heated tent which was essential on this very chilly day that consisted of a high of 53 degrees. There was a check-in/triage area with two computers to record patient health information and documentation.
Each section of the field hospital was equipped with a POD consisting of airway equipment, IV solution and supplies, medications, gauze, alcohol wipes, oxygen masks, glucometers, and lots of hand hygiene supplies. There was also a monitor with defibrillator for each area of the field hospital.

GAPNA members treated patients with an array of acute illnesses such as dehydration, heat exhaustion, hypotension, hypertension, muscle strains, and allergic reactions.
However, we had several refusals of treatment also. The experience was impactful and humbling on the anniversary of this tragic day in American history.
The overall encounter emphasizes the importance of readiness for disaster preparedness and being prepared to serve.
Courtney Batey Coats, DNP, APRN, FNP-C, RHIA
courtney.batey@optum.com
Plan your trip to the nation's capital during GAPNA's Annual Conference, September 26-29, 2018 by checking out all the things to do, places to eat, and ways to have fun.

Find out about it!