Gearing Up for Annual Conference
by Valerie Flattes & Sharon Bronner
The Research Committee is gearing up for the 36th Annual GAPNA Conference, October 4-7, 2017, in Nashville, TN.
We hope you will come out to view the presentations and posters by GAPNA members (blue ribbons will be given to winners this year!).
HURRY there is still time: Call for Abstracts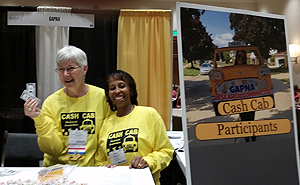 Look for the Cash Cab at the 2017 Annual Conference.
When you visit the Exhibit Hall during the conference, be sure to look for the Cash Cab again this year at the "Ask the Experts" booth. Research Committee members are available during the conference to discuss projects and answer questions about your clinical and research projects.
This is also an opportunity for networking and to inquire about the function of the Research Committee.
The Research Committee meets every year at the conference and invites new members (and appreciates the old!).
The Research Committee also meets monthly by conference call. Although we are in diverse locations across the United States, we are a vibrant group with fresh ideas to engage members in research, submit abstracts, and make the "Ask the Experts" booth more fun and engaging. You are welcome to join us on the call!
See y'all in Tennessee!
Valerie Flattes, PhD(c), APRN, MS, ANP-BC
Chair, Research Committee
valerie.flattes@nurs.utah.edu
Sharon Bronner, DNP, MSN, APRN, ACHPN, GNP-BC
Chair-Elect
thebronners@aol.com