Mid-Life Change to NP Proves You Get What You Give to GAPNA
by Carole Bartoo
Alison Schlenger was content in her 15-year career as a healthcare social worker, but when her mother developed Alzheimer's disease, life cut a new path for her.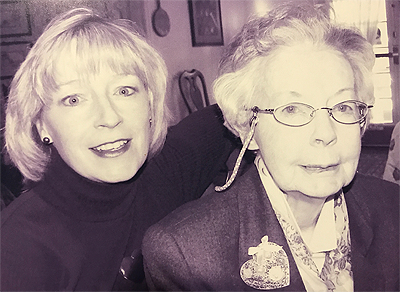 Alison and her mother, Juanita
"My mother was an educator. She was able to fool even me for a while. But ultimately her dementia progressed, and I discovered you cannot work full time, raise a 9-year-old with a husband who commutes, and care for a parent with Alzheimer's," said Schlenger.
So Schlenger retired as a social worker to manage her mother's care. She says she didn't know much about geriatric nurse practitioners until a bout with pneumonia took her mother to the doctor's office. The doctor was booked, but the nurse practitioner (NP) could see her right away.
"It was phenomenal. Mom needed a chest x-ray; the NP sent us down the hall to an outpatient imaging center, then asked for my number. After clinic hours, the NP called my cell to confirm the diagnosis, sent a prescription, and scheduled a followup appointment," Schlenger recalled.
That kind of efficiency and willingness to work outside regular hours for a family in distress impressed Schlenger deeply. Shortly after her mother's death, Schlenger enrolled in Emory University's GNP program. Carolyn Clevenger, DNP (immediate Past President of GAPNA) directed the gerontology track and became one of Schlenger's first mentors, encouraging her to join GAPNA.
Schlenger put a great deal of energy into the organization, attending the Georgia Chapter's quarterly meetings, serving on the planning committee for the annual CE conference, and taking her turn as Chapter President. Clevenger and other colleagues took notice of her involvement, so when opportunities opened as Schlenger was graduating, they thought of her.
"Carolyn had been doing some PRN home visits for a physician who reached out to Emory's School of Nursing for help serving elderly patients with mobility issues. She was no longer able to fulfill that role, so I started right in as a house calls primary care provider," Schlenger said.
Building a Practice
Schlenger created a limited liability corporation and built an active practice over the next seven years. The GAPNA House Calls SIG connected her with colleagues all over the country for clinical and business advice.
To keep abreast of changing healthcare policy, she joined GAPNA's Health Affairs Committee. That's when she realized the landscape was changing in a way that would not be favorable to her small, already challenging practice. She decided she was ready for a change. Once again, her connections at Emory and GAPNA would guide her.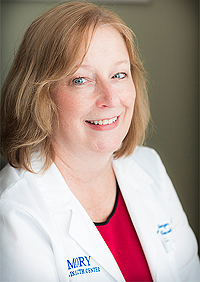 Alison Schlenger
Clevenger was clinical director for Emory Brain Health Center's NP-led Integrated Memory Care Clinic (IMCC). Schlenger knew several faces among the clinic team that were familiar from GAPNA events. IMCC had an opening for an NP; Schlenger could not refuse the opportunity.
The clinic serves patients with a dementia diagnosis offering primary and specialized dementia care, medication management, and coordination of care and support for families, including caregiver classes, discussion of current and future goals, and guidance for advanced directives, transitions of care, and palliative and hospice care.
The IMCC is, Schlenger says, a patient-centered medical home model. It's exactly what families affected by Alzheimer's disease require. The sort of care she would have been grateful for when her mother was alive.
"We have an after-hours number; on a 24/7 basis, the phone rings directly to whoever is on call. A daughter called yesterday, so I said 'Hello, this is Alison' and she stopped… she couldn't believe it was me, someone she knew well from clinic. She thought she would get an answering service. Instead I could just ask 'what's up with mom?'"
Patient Engagement
Schlenger remains engaged in GAPNA. In addition to membership in SIGs, she and the Georgia Chapter have kept pace. February 2017 was the Georgia GAPNA Chapter's 8th annual continuing education conference. Schlenger has participated in every one. The year she served as her chapter's president, the chapter was chosen as a GAPNA chapter of excellence. She says she feels there is much to do and she believes in the power of GAPNA to effect change.
"New NPs must understand that the changes in the profession happen through the professional organization. What you put into it is what you get out of it," she said.
"I like the direction GAPNA is going: to establish us as geriatric experts who speak to the unique needs of our population. There are old mentalities that keep NPs from being able to order vital services such as home health, for example. And in some states, NPs are kept from practicing to the full extent of their licensure. These are old models of care that need to change."
You can count of Alison Schlenger to be part of making that change.
Carole Bartoo, MSN, BSN, AGNP-BC
Editor
carole.bartoo@vanderbilt.edu