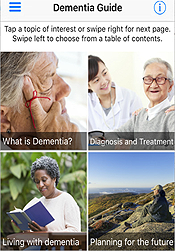 A new mobile app, Dementia Guide Expert for Families, is now available for free on iOS Apple iTunes and Android.
This app was developed by GAPNA member Valerie Gruss and her University of Illinois Chicago HRSA-funded Geriatrics Workforce Enhancement Program (GWEP) team.
The Dementia Guide Expert for Families offers evidence-based practical and helpful advice and support for each phase of the journey through the dementia experience. The approach is "dementia positive" and the goal is to improve the quality of life and well-being of persons with dementia, families, and caregivers. This new patient and family-centered mobile app was created by geriatric experts, tested by older adults, and reviewed by the Alzheimer's Association - Greater Illinois Chapter.
Technology and mobile applications are a fundamental resource for expanding and improving patient care and meeting the complex needs of our growing older adult and dementia population. We are excited to share our easily accessible free mobile app with our colleagues, clients, friends and families.

Download it today at the Apple Store or Google Play Store!
To learn more, visit engageil.com
Valerie A. Gruss, PhD, APN, CNP-BC
vgruss@uic.edu