President's Message
Annual Conference, Elections, and New SIG on Horizon
by Katherine A. Evans
The 3rd Annual GAPNA Pharmacology Conference in beautiful San Francisco, CA, was a huge success. The Northern California Chapter exhibited their strong history and produced a superior educational program. We welcomed participants from across the country for an exciting weekend of learning, networking, and checking out the sites in San Francisco. Check out the 2017 Pharma Conference Photo Gallery.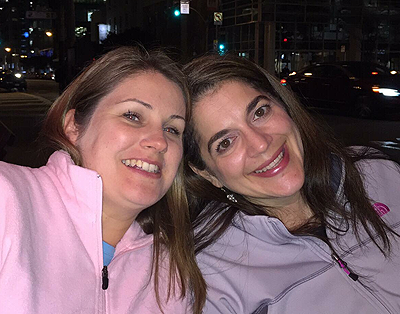 L-R: Carolyn K. Clevenger, DNP, GNP-BC, AGPCNP-BC, FAANP, Past
President, and Katherine A. Evans, DNP, FNP-C, GNP-BC, ACHPN,
FAANP, President. Taken at the 2017 Pharmacology Conference.
If you have never attended a Pharmacology Conference, you are missing out on fast, fun education and learning. It is an excellent way to quickly earn pharmacology credits and connect with your GAPNA network.
Join us for the next Pharmacology Conference in Boston, MA, St. Patrick's Day weekend, March 16-17, 2018!
Middle Tennessee Chapter
The Middle Tennessee Chapter has been hard at work with the GAPNA Planning Committee preparing for the 36th Annual GAPNA Conference in Nashville, TN, October 4-7, 2017.
There is an exciting line up of exceptional speakers and this will be one of our best conferences yet. Our recent rising star, Jennifer Kim, is a member of this chapter and we expect great things to come with her leadership.
In addition, past Chapter President Kanah May Lewallen was featured on the cover of Vanderbilt Nurse magazine and recently welcomed a new baby.
This chapter has an incredible amount of energy and we will see many more accomplishments in the future.
Acute Care Special Interest Group
GAPNA is excited to announce a new special interest group (SIG).
The Acute Care SIG will create a forum for those practicing and/or certified in this setting. This is a growing area and we are anxious to support the needs of our members working in acute care. We anticipate strong participation in this group as a significant portion of our members are practicing in this setting. Look for more information soon on how to join.
Elections
The GAPNA Board of Directors elections a fast approaching. I encourage you to look for your electronic ballot and take advantage of your member benefit to vote in this important election. It is critical that your voice be heard as we elect those who will represent us in the coming years.
As you review the ballot, consider areas to participate in GAPNA. There are a variety of avenues including local chapter leadership, committees and SIGs, and board of directors. GAPNA needs your energy and passion to move our mission forward.
Enjoy these beautiful spring and summer months. I look forward to seeing you all in Nashville at the 2017 Annual Conference.
Katherine A. Evans, DNP, FNP-C, GNP-BC, ACHPN, FAANP
President
katabe@me.com